This week has been quite a successful one in terms of the wedding, I have my wedding ring all sorted out and in hand, Nick's wedding ring is ordered - I think it's slowly beginning to settle in now. The rings are a huge part of the whole wedding as they are the one actual item that is with you from the day for the rest of your life. Obviously there are the memories and the photos, but the ring is the big symbol of the marriage together!
I had a very drunken night out for my 23rd birthday on
Friday
night, including lots of cocktails, tequila and
sambuca
shots, a few hours at a work do and then onto a gig with my (sober) other half. I was looking forward to the weekend ahead and hoped I wasn't going to be feeling to hungover the whole weekend.
I had my hair appointment on Saturday, and now know what
I'm
going to have, so
I'm
glad that's sorted and
I'm
so excited about that! I'm going quite Audrey Hepburn style hopefully with a fun twist in my veil if it all works out!
Today I got my bridesmaids together for the first dress fitting since receiving them all, luckily they fit, some are a little big but that's not a problem, better to be too big than too small. I think they are all going to look great in them! We had a chat about their hairstyles and
i'm
being quite relaxed with them, they can have what they want as I want them all to feel comfortable on the day, but have said something
abit
retro looking will look good if they are up for doing it.
I've been looking at a few ideas, these might give others inspiration too: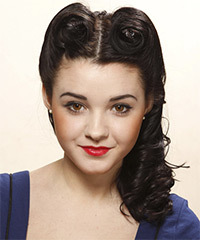 We had a lovely day full of hen do and wedding plans, looking at hair styles, eating cupcakes and gingerbread men that are we are perfecting for the wedding - then to top it all off I went for a lovely
Thai
meal with the in-laws to
celebrate
my birthday!
What a weekend.x